Sometimes, no matter how much diet and excercise you do, there are just stubborn areas of our bodies that won't slim down. With CoolSculpting, we have a revolutionary treatment option to reduce the areas around your  waist, hips, thighs, buttocks, abdomen, arms, back, flanks, "love handles," or a "muffin top". Best yet – with our NEW CoolSmooth Applicator, we can now also treat even more areas of the body.  
Don't let unwanted fatty deposits keep you from having the body you've always wanted! CoolSculpting is noninvasive and there's no downtime. We'll help you reduce your troubled areas so you can look and feel your best in NO time! 
Read on to learn more about CoolSculpting and how it works: 
LET'S GET STARTED. SCHEDULE TODAY
Schedule your FREE consultation and discover if you are a candidate for CoolSculpting.
In our Cool Lounge, patients enjoy a one of a kind atmosphere while they reduce fat. Our beautiful facility leaves no detail to the imagination, as patients undergo treatments in comfortable CoolSculpting robes and slippers. Refreshments, such as tea, coffee, and water, are offered complimentary as patients relax and complete their treatments. Our CoolSculpting suite is fully equipped with WiFi.
When you come in for your CoolSculpting treatment, you will first change into a comfortable robe and slippers.
As the procedure starts, we will place a protective gel pad over the treatment area.
A specifically designed applicator for the treatment area will be pressed against the skin and tissue is drawn between 2 cooling plates.
The CoolSculpting device will use a combination of gentle vacuum pressure and deep cooling to treat the fat below the skin and freeze unwanted fat cells via a process called Cryolipolysis™.
As a result of the cooling, you may feel some numbness during treatment, and the treatment area may be red afterward, but this usually fades within a few hours.
Throughout your treatment you can enjoy free Netflix movies on our tablet. You may also bring your laptop to work on projects.
Upon completion of the 1-hour cycle, we will remove the applicator and massage the frozen tissue. We may also follow the massage with additional technologies to further enhance your results.
We may use multiple applicators at the same time to speed up treatment time.
What is Cryolipolysis?
The term "cryolipolyisis" basically means Breaking up Fat via Cold:
Cryo=Cold
Lipo=Fat
Lysis= Break up.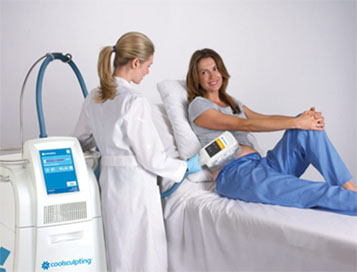 LET'S GET STARTED. SCHEDULE TODAY
Schedule your FREE consultation and discover if you are a candidate to receive the only non-surgical fat reduction treatment with proven, noticeable and lasting results: