ELIMINATE UNWANTED FAT

WITHOUT THE DOWN-TIME
While there are many options for non surgical fat removal, CoolSculpting was the first FDA approved option. To date, there have been over 3 million treatments performed worldwide. 
CoolSculpting eliminates fat cells by actually freezing the fat content. It requires:
 
NO downtime
NO needles or cutting
NO anesthesia
NO surgical scarring
LET'S GET STARTED. SCHEDULE TODAY
Schedule your FREE consultation and discover if you are a candidate for CoolSculpting.
This technology, developed by Harvard scientists, uses controlled cooling to target and crystallize fat cells. Your fat is safely chilled to damage the fat cells without harming surrounding skin or tissue. During the weeks following your procedure, your body will naturally eliminate the damaged fat cells, resulting in an undeniable loss of fat.
The Science Behind CoolSculpting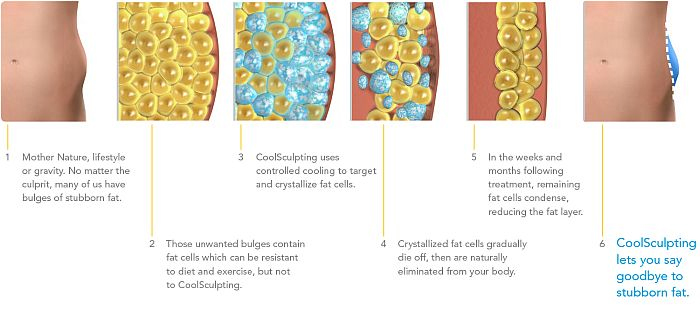 On average, CoolSculpting alone results in a 25% reduction of fat in the treated areas. Results can be further enhanced by combining CoolSculpting with other treatment modalities. We are experts in combination treatments and our team utilizes and trains clinics world-wide on our proprietary advanced treatment protocols.
Patients can start to see results as soon as two weeks following a CoolSculpting treatment, with the most dramatic results occurring over a period of two to four months.
Call us at 970-278-0900 for a FREE CONSULTATION  and learn how CoolSculpting can eliminate those Muffin Tops, Spare Tires, Saddlebags, Abdominal and Bra Fat and more.
LET'S GET STARTED. SCHEDULE TODAY
Schedule your FREE consultation and discover if you are a candidate to receive the only non-surgical fat reduction treatment with proven, noticeable and lasting results: